1.08.2005
**Soundtrack: "(Nite Time Is) The Right Time," Ray Charles, Ray Original Motion Picture Soundtrack**
O
n Thursday evening, I traveled downtown to East 4th Street, the Kraine Theater, to catch my friend Tamela perform in a new limited-performance play. I was excited to check her out, since she'd finished her previous play just before we met. The play was entitled
The Collard Green: Contributions by Cornbread Divas

.
Yes, I know. The Collard what?!?!? That was my initial reaction when told about the three-woman play. So naturally, when I heard collard greens and cornbread, I figured I'd be going to a Anthony Hamil.ton concert, getting a helping of Cornbread, Fish and Collard Greens. Not seeing where she'd fit in, I asked her, "Whatchutalkinbout, Tamela?"
She assured me that all titles, while similar, were purely coincidental and that the diminuitive R&B singer wouldn't be in the building. She tried to describe the play as a channeling of power for black women. That made no sense to me. So I went to the website for a more apt description. LOL Here's how it's described by the producers:
"[The Collard Green]--as process and product--is a testament to the urgency and
provocative beauty of the voices of black women. The piece has been
reworked to embrace the diverse and complex voices of black women in the 21st
century."
See? They do a much better job. LOL The show featured the works of Sonia Sanchez, Alice Walker, Zora Neale Hurston, J. Nozipo Maraire, Winnie Mandela, Mariama Ba, Toni Morrison and Gloria Naylor. The Collard Green was the vision of the late Ernie McClintock, who started the small ensemble of black women back in the mid 80s. Throughout the years, the ensemble performed in the South, but never in New York, the ultimate stage. He passed away in 2003, before his vision was fully realized. These women, on Thursday evening, followed through with his vision, and finally, it was time for its New York debut.
OK, so now that we know some history, let me set the scene. The small theater with stadium style seating held approximately 150 people. There were about 80 of us for the show's opening night, all ready to hear the three performers recite poetry and monologues from artists from the past. We might've been ready for that...but we got much more.
They entered stage left and dominated it until they left. From the first syllable, the sistas killed it. They WERE those women. They embodied them, channeled them, hijacked their souls...they were doin' it well like an LL Cool J song. I sat there, in awe, for the entire 90 minute performance. No intermission? No problem. All three women took turns with the monologues, playing off of one another, depending on one another, vibing off of one another. It was a sight to see.
The first monologue, Sanchez' Shake Loose My Skin, placed the trio in the early 21st century, when women were not only uncomfortable in their skin, but not sure of their roles. Walker's The Temple of My Familiar and Hurston's I Love Myself When I Am Laughing saw them evolve, one by one, word by word. Never before had those words, which I'd read many times before, held such power. Never had I appreciated them the way I did that night.
It was a perfect marriage between written and spoken word. The struggles, triumphs, concerns, loves, tears, anger and laughter of black women were all addressed, all finely portrayed.
The Cornbread Divas, comprised of my friend Tamela Aldridge (damn right she's my friend now that she's the bomb actress...lol), Dr. Indira Etwaroo and Tamera Xavier. I wasn't going to print their names, but the more I thought about it, the more I think they deserve their proper respect. You could tell by their passion that this project was close to their hearts. All of this...and there was brief nudity, too. Wooo Hooo!!!
The highlight of the evening for me (yes, besides the nudity) was the portion taken from the Mandela memior, Part of My Soul Went With Him. This was Tamela's finest moment. From accent to body language, her performance was dead-on. You believed without hesitation that she was Winnie, telling of her trials inside a jail cell. Just powerful stuff.
Can you tell I liked the play? LOL And one day, when I'm running HBO21, The Collard Green will reach the broadest audience possible. Until then, just take my word for it--it was incredible. After the show there was a Q & A session. Not.a.soul.moved. Well, except for me. I had to go. I didn't want to sit and talk about what I'd just seen. Instead, I walked away letting it all soak in, while at the same time trying to figure out how to ask Tamela to be her agent.
I mean, sure, we got the Collard, but hell...with her talent, there's definitely a lot more Green where that came from.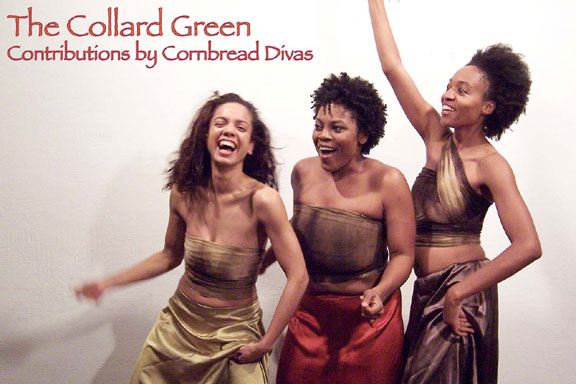 scribbled by Will at 1/08/2005 11:14:00 AM
link
|
|